India vs England: Ishant Sharma Reveals How He Found Out When MS Dhoni Would Retire from Tests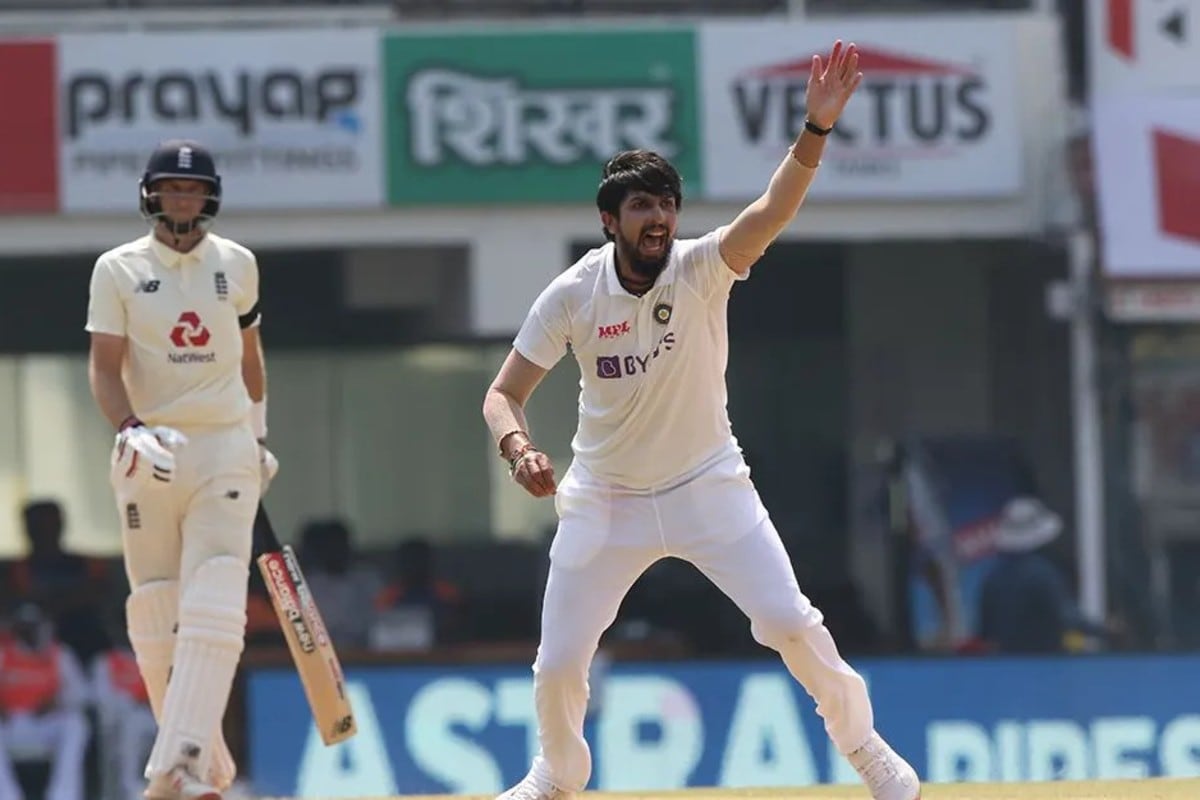 India pacer Ishant Sharma is set to play in his 100th Test match when the team take on England at Ahmedabad on Wednesday, meaning he will become only the second pacer from the country after Kapil Dev to have reached this milestone. Ishant's longevity in the side has seen him play under a number of captains, including MS Dhoni who largely used him as a workhorse. In a recent interaction, the Delhi pacer recalled how he, just like everyone else, was stunned at the sudden nature of Dhoni's Test retirement and how he found out about it in the most unusual of circumstances.
Azharuddin's 152, Srinath's Best & Sachin's Double Ton – India's Finest Performances at Motera
"I felt very bad (on MS Dhoni's retirement). I had taken many injections for that Melbourne Test match because I was experiencing severe pain in my knee. I did not know that Mahi bhai was going to retire. In fact, nobody knew that he was going to retire. So, I was taking an injection every session," Ishant said with an interaction with R Ashwin on his YouTube channel.
"When it was almost Tea on Day 4, and Australia were about to declare… I told Mahi bhai that I cannot take injections any more. So, he told me, that's okay. You don't need to bowl now. Then something happened, and he told me, 'lambu tune mujhe Test match mein chhod diya' (you have left me in this Test match). I did not understand. Then he elaborated, 'you left me midway in my last Test match'.
India vs England 2021: Third Test Preview – A Pink Ball Test With A Lot Riding On It
"I was stunned. I told him if I knew I would definitely have continued to play. So that was a really touching story. I didn't know till the last day that he was retiring."
Ishant also speculated over the timing of his retirement, especially since Dhoni was still one of the fittest members of the side at the time and would go on to play white-ball cricket for India therafter for almost another 5 years.
Ishant Sharma: From First Fifer Against Pakistan To Great Performance at Lords – 10 Moments of Glorious Test Career
"Although he was close to 100 Tests, he was always a team man. I remember he told me he when we were in England that it is not important for him to play hundred Tests. Instead, he felt that we need to start grooming (Wriddhiman) Saha. That's why he took the sudden decision to retire, I feel."
---
---