India vs England: Unpredictable Motera Pitch & Two-day Finish Not a Great Advertisment for Test Cricket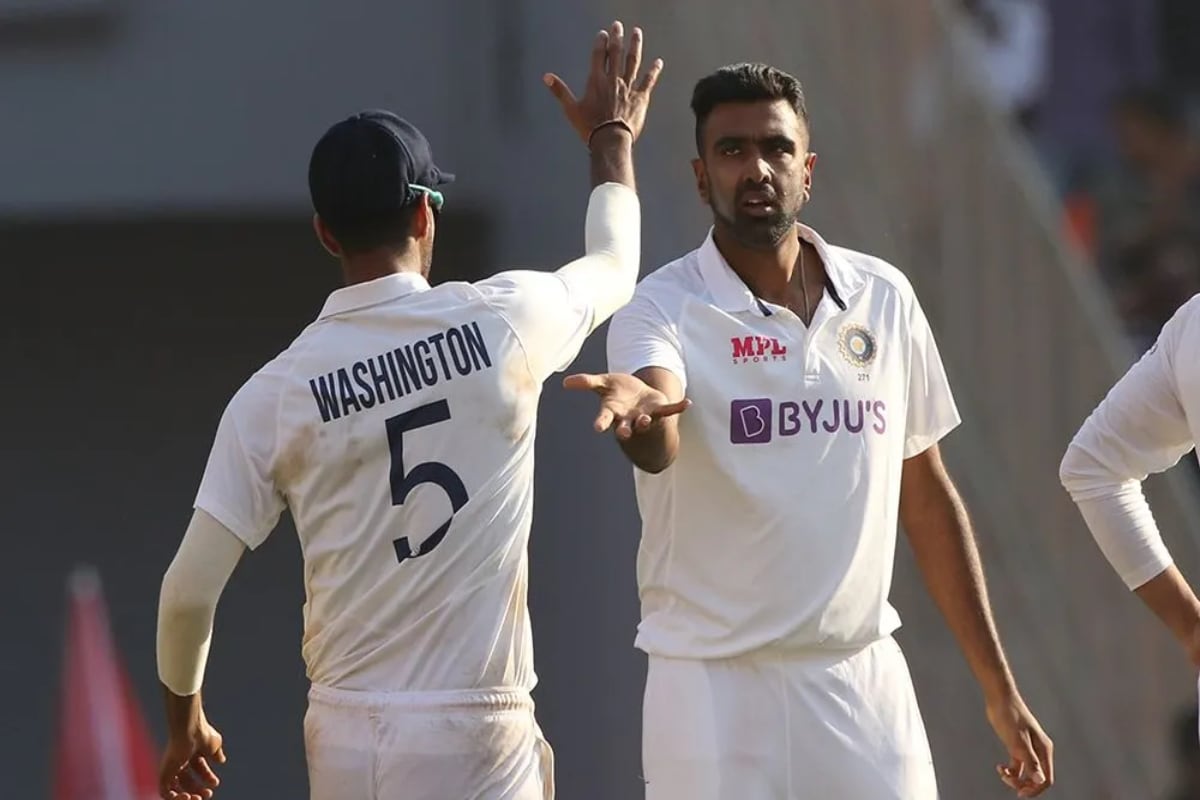 The Day-Night pink ball Test at Ahemdabad's new Narendra Modi Stadium was sensational for its brevity: it ended within two days, the entire match lasting just 140.2 overs. Day-night Tests have generally finished well before time, but this was the shortest of all. India's margin of victory was huge – 10 wickets, chasing only 48 – but this should be contextualized in the batting performances of both sides. In response to England's paltry 112 in the first inning, India were bundled out for 145, losing 7 wickets in less than a session on the second day. At that point in time, with a lead of only 33 for India, the match appeared to be evenly poised. But the England batsmen did not have the mental resolve and self-belief to build on a fine fightback, and collapsed for an ignominious 81 in the second innings.
That's fair dinkum. The team which plays better over a longer period of time wins. But if the pitch becomes such a strong influence as to make batting pure lottery – for both teams – it robs Test cricket of the flavor and virtues that make it so coveted.
Non-stop fall of wickets on both days kept the engagement level for fans high. However, batsmen were reduced to utter haplessness by the unpredictable nature of the pitch, which is not good advertisement for the five- day format.
The many imponderables in cricket – weather, pitches, floodlights, colour and make of ball – is what makes it such a great sport, demanding high skill, mental toughness, stamina and patience, particularly in Tests. But if any one of these conditions becomes overwhelming, it mitigates the essence of a sporting contest.
Axar Patel Bags 5, R Ashwin Picks 400 as India Wrap Up Win Inside Two Days
To make Test cricket appealing, the contest between bat and ball must tend towards being equal. There will always be one-sided matches, but if the pitch takes one skill (batting or bowling) completely out of the reckoning, it does a disservice to the players, fans and the sport.
The argument that overseas batsmen coming to the subcontinent must be prepared for turning pitches just as batsmen from the sub-continent must be for seaming and bouncy tracks in SENA countries is not unfounded. But in neither case is a pitch which makes a battle between bat and ball so lop-sided justified.
The pitch was dicey from the start. On the first day, when England collapsed for 112, it appeared they had muffed up a great chance on exploiting the advantage of winning the toss and batting first. To an extent this was true, as I discuss later. But as the match progressed, India's batting floundered too, putting the dubious nature of the pitch in perspective.
Barring Rohit Sharma and Zak Crawley (both in the first innings) all other batsmen were at sixes and sevens coming to terms with the pitch. Fast bowlers from either side became passengers. Spinners reveled, however, so much so that part-time trundler Joe Root picked up 5-8 in India's first innings, showing the extent to which the surface was ranged against batsmen.
India vs England: Ravichandran Ashwin Becomes Fourth Indian to Enter 400 Club
That said, nothing should take away from India's victory. To succeed, spinners still needed to bowl with nagging accuracy and at the right pace – rather than trying to extract turn – for maximum help from the track. In this, Ravichandran Ashwin and Axar Patel found no match from the England side, which had also blundered picking an extra pace bowler instead of spinner.
I'll got a step further and say that England's current predicament – Test lost as also place in the World Test Championship final squandered – is largely self-inflicted. Not only have they misread the pitches for the second and third Tests leading to flawed selections, but the performances have been disappointingly below par too after the first Test win.
In the second Test on a square turner at Chepauk, they were failed by both batsmen and bowlers. Taking away no credit from Rohit Sharma's dazzling first innings century and R Ashwin's flamboyant ton in the second innings, fact is that the England's spinners just couldn't exploit helpful conditions to their advantage.
Moeen Ali, included in place of Dom Bess who had done reasonably well in the first Test, was profligate. His 8 wickets in the match came at such high cost as to negate their value in the outcome of the match. Jack Leach impressed in patches. Neither looked anywhere close to being as threatening as Ashwin and debutant Axar Patel.
The bigger issue for England has been the batting. In the second Test at Chennai, the batting was technically incompetent, confused and drawn into mistakes easily. On the opening day of the third Test at Amdavad, things seemed to have worsened. The batsmen seemed lily-livered, lacking courage or positivity and made a hash of batting first after winning the toss.
India vs England: Axar Patel's Sensational Home Debut, Completes Ten-For in Match
It is never easy for overseas batsmen to come to terms with Indian pitches, especially in these times when practice matches leading into a Test series are so few. Yet, this England had raised expectations of doing far better because the preparations appeared to have been so focused and thorough.
What modern-day cricket affords is easy and rapid transfer of information. Videos and data analytics of matches played anywhere in the world are readily available to coaches, support staff and players. What Indian (or Aussie, English, Kiwi) pitches are like is not such a big surprise, which allows pre-tour training to be tailored accordingly.
Then there is first-hand experience and sharing of knowledge subsequently. A fair number of England's international players – Bairstow, Stokes, Butler, Archer to name some — are now part of the IPL. They would know conditions and India's players fairly well to adjust their own game, as well as advise teammates.
None of these is substitute for practical experience, of course. But in this too aspect too, England were well served. Before reaching India, they played a two-Test series against Sri Lanka to acclimatize to sub-continent conditions, weather and pitches. They fared superbly, winning both matches.
In the first Test at Chennai, England played a superb all-round game to wallop India by 227 runs. The rapid decline since begs the question: what's going wrong? There can be sundry reasons, not the least a not-so-clever rotational policy that often prevents the best team to take the field. But most likely it appears to be a result of overthinking, or paralysis by analysis.
In trying to cling on to the early 1-0 lead, England, perhaps disbelieving their good fortune, got themselves sucked into a battle of attrition — poor tactic against this aggressive Indian side. After the first Test, where led by Joe Root's magnificent double hundred they were constantly looking to grab the advantage and put India under pressure, England surprisingly went into a shell.
The batsmen particularly, have been unwilling to take bold measures, to set up the game, and in the process allowed India's spinners to take total control. This was tellingly evident on the opening day of the third Test where the England batsmen looked terrified of the pitch and nonplussed when facing Ashwin and Axar.
The batsmen failed to come to terms with the extent of movement – or lack of it – and became sitting ducks because of fright. Zak Crawley's sparkling half century was a lesson at the dividend of a positive approach, but all the others were stupefied into strokeless acceptance of their fate.
Where India is concerned, recovery after the first Test defeat has been fantastic. Of the major performers, one hardly needs extol Ashwin's mastery any more. He's easily been the outstanding player in international cricket this season. To get past 400 wickets in just his 77th Test – with 2643 runs and 5 centuries to boot – makes him a phenomenal performer.
Axar Patel has been a revelation this series. Two five wicket hauls in successive Tests shows how quickly he has adapted to international cricket. Home pitches have helped, of course. But what's commendable is he's shown no sign of nerves, and bowled with immaculate control, adjusting to the demands of the conditions and match situations superbly.
For the past couple of years, Axar was seen as a white ball cricketer and wasn't even the second choice left-arm spinner for Test cricket. Ravindra Jadeja and Kuldeep Yadav were in the squad ahead of him. Jadeja would still be number 1 when he returns from injury, but Axar's matchwinning abilities will make it difficult for the selectors not to keep him in the squad subsequently.
This makes it four international left-arm spinners (including Kuldeep, Shahbaz) in the running. Add two off-spinners (Ashwin, Washington Sundar) and half a dozen fast bowlers (Ishant, Bumrah, Shami, Saini, Siraj, Natarajan) to make up the bowling pool. Plus at least half that many pushing hard for a place in the Indian team.
Likewise, in the batting too, there are several talented youngsters keeping the seniors on their toes, highlighting the heft and richness of Indian cricket currently which got the better of Australia recently , and should in all likelihood, also get the better of England.
---
---