EXCLUSIVE: Rishabh Pant Will Break MS Dhoni's Records, Says Former India Wicketkeeper Kiran More
G Krishnan
Before the start of the four-Test series for the Anthony de Mello Trophy that India convincingly won 3-1 on Saturday after being thrashed by England in the first Test in Chennai, there were doubts on Rishabh Pant's abilities behind the wickets on the turning Indian pitches.
But, after keeping for nearly 428 overs to spinners alone in the four Tests and holding eight catches and effecting five stumpings, Pant has proved his critics wrong. He did well on numerous occasions to the turning ball, stretching to his left to sharp turners and getting his gloves to the ones that spun away to his right. Of course, there have been some chances that went abegging, collections to which he was not up to the mark and the odd missed stumping chances. But Pant is here to stay.
There's Nothing Better Than Performing When Team Needs You Most, Says Pant
Though it may be unfair on the senior and well-established 'keeper Wriddhiman Saha, whom he has displaced from the Test XI even at home, Pant has given this Indian team the balance that they have been looking for. Pant's remarkable batting on the second day of the fourth and final Test was just an example of why he is the preferred choice to keep wickets in the longer format ahead of Saha.
Rishabh Pant's Measured Yet Thrilling Knock Was New Age Batting at Its Best
Former India wicketkeeper of repute, Kiran More was mightily impressed with Pant's growth as a wicketkeeper, especially in this series. The just-concluded series was Pant's only second home Test series in his 20-Test career so far, his first being the two-Test rubber against the West Indies in October 2018, which Saha missed after having a shoulder surgery earlier that year in England. Once Saha was back, it was the Bengal cricketer who kept wickets in India against South Africa and Bangladesh in late 2019. There became an unwritten rule that Saha would keep wickets in India and Pant, overseas.
Adam Gilchrist Has a Special Message for Rishabh Pant – Read Here
But More deferred. "I have always wondered why Pant was not played in India earlier. Pant did very well in England in his maiden appearance (15 catches in 3 Tests). He did very well in Australia in 2018-19 (20 catches in 4 Tests including 11 in a Test, the best ever by an Indian wicketkeeper). But, when they played in India, he was not allowed to keep wickets," the 58-year-old More told News18.com in an exclusive chat from Baroda.
Rishabh Pant 'More Than Ready' to Fill in MS Dhoni Void, Says Rohit Sharma
"I wondered why a person who does well in England and Australia, and wins Tests for you and is a proven match-winner is not tried in India. Unless and until he plays on Indian turning tracks, he is not going to learn. This time, he got an opportunity to play. Once he plays on turning tracks, only then will he learn. He is only 23 years. If you don't allow him to keep wickets in India and only play him abroad, his growth is only going to drop."
Sourav Ganguly Lavishes Praise on Rishabh Pant, Says He Will Be An All-time Great
More, who appeared in 49 Tests and accounted for 130 dismissals including 110 catches and 20 stumpings from 1986 to 1993, felt that a wicketkeeper's true quality comes while keeping on turning pitches. And, in his books, Pant is a clear winner.
In Pics-Pant Power Hits England in Full Might
He said: "I feel Pant has got the right opportunity and the wicketkeeper always comes into the picture on turning tracks. He will look good also. Even if he misses an odd ball, nobody will say anything wrong. All they will say is 'the ball is turning', 'it's staying low', 'ball is jumping', and those sorts of excuses. Plus, usually in India, it is not going to be high-scoring matches. Even if he misses one, it is not going to matter. You are going to get a lot of catches, you will be the centre of attraction on those types of pitches. That's what has happened to Pant as well. He has kept well."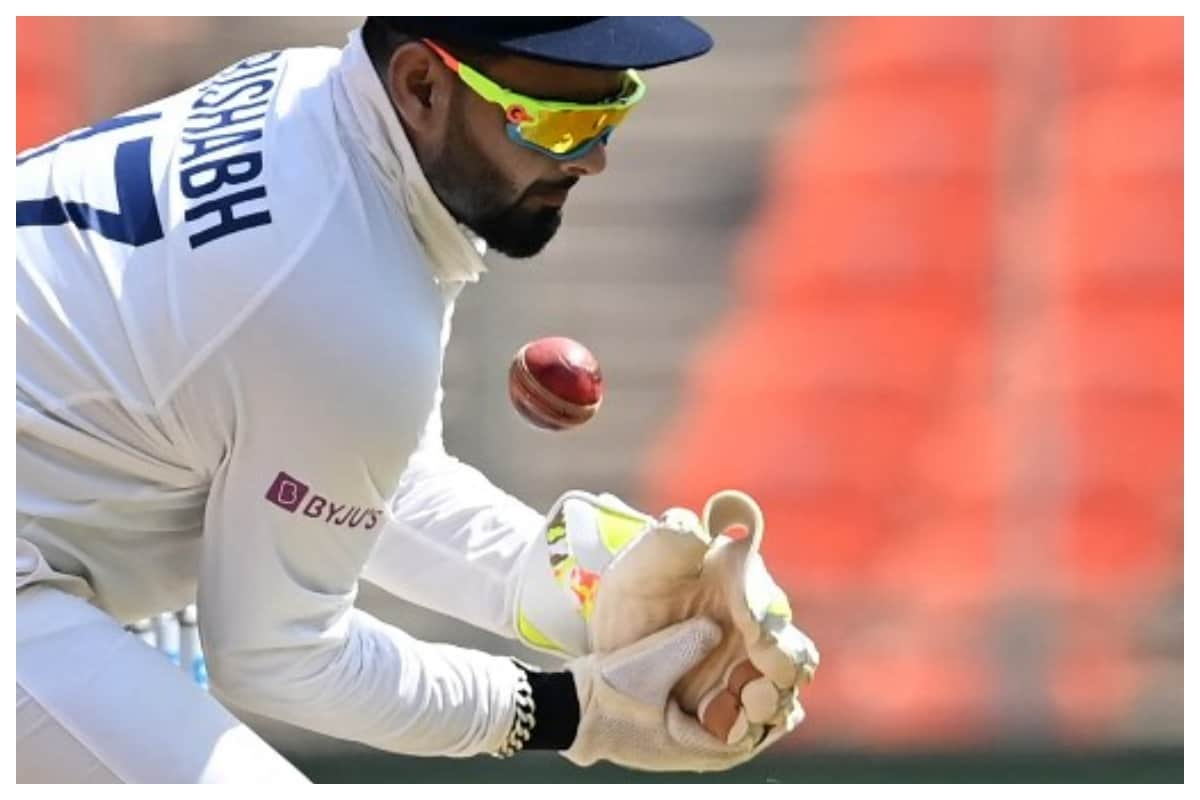 WATCH – Rishabh Pant Sledges Zak Crawley & England Batsman Gets Dismissed on Very Next Ball
Of course, Pant is not a complete wicketkeeper, yet. More, who has helped fine tune Pant's wicketkeeping skills in the past, said: "Definitely, there is a lot of scope for improvement. There is a lot of work to be done. One should not just go only by the looks of his wicketkeeping. He will be fine. He has a few areas to work on. Hopefully I will get an opportunity to work on him in the future."
More said that the test of a wicketkeeper was in how he keeps on turning tracks. He said: "I find it very challenging on turning tracks. I really enjoyed keeping on such pitches. If you are good enough, you can create catches and stumpings. If you don't enjoy keeping on turning tracks, you won't be able to keep wickets at all."
Like it does for all-rounders, when success in one department rubs on to the other department as well, Pant is no different. More said Pant can do what the destructive wicketkeeper-batsman of yesteryear, Adam Gilchrist, did for Australia in the 2000s.
More said: "Pant's confidence is growing in wicket-keeping. His batting is helping him gain confidence in 'keeping. He is scoring runs in every match. He is going to improve the more and more he plays in India.
"A lot of people had this question of who India will play – Pant or Saha. No doubt Saha is a great wicketkeeper, one of the best in world cricket. But, when you want the team balance, Pant gives you the best balance. Coming at No. 6, he is a capable batsman who can win Tests singlehandedly for you. What Adam Gilchrist did for Australia, this guy is going to do for the next 10 years. He is going to be there in all the formats. The team management will decide when to rest him."
Pant began as one who used to throw his bat at almost everything and had the 'hit out or get out' policy. Often, he has thrown away his wicket after getting the starts. But, he has shown great maturity and played according to situations. Prior to his remarkable 101, he played responsibly, helping India save the Test in Sydney with 97 on the final day and a match-winning 89 not out in Brisbane in January this year.
More was surprised that Pant was not an automatic selection in limited overs for his batting. "I was surprised that he was not a part of the 2019 World Cup team initially. (Pant did make the squad as a replacement to the injured Shikhar Dhawan, who was ruled out after a thumb injury). I was surprised that he's not part of the T20 team and was dropped from the ODI team in Australia. I was taken aback by the fact that a player of his calibre who can hit sixes at will is not part of the Indian team. When you get this sort of a player, you need to back him."
Now being the automatic choice for Tests, Pant need not worry about competition with other Indian wicketkeepers including Saha. More, who was part of the Indian squad from 1983 as an understudy to the legendary Syed Kirmani on the tour of West Indies, said: "Pant is a character who does not care about other things. He is a fighter. He is very courageous. He trusts his own game, That's what a cricketer should be. I don't think he thinks about competing with Saha. He only thinks about winning matches for India and keeping wickets. When he is behind the wickets, he wants to do well all the time."
More, who was also chairman of the national selection committee that picked a certain Mahendra Singh Dhoni in the Indian team in the 2000s, said that Pant can go on to emulate the Jharkhand and Indian legend.
"You learn every day. You learn by keeping on different pitches with varying soil types. You learn by keeping to the best spinners and pacers in the world that India have at the moment. You have to learn by observing. He will break MS Dhoni's records. If you don't learn, you will be found wanting. With experience, Pant will go a long way," More said.
More, though, felt sorry for Saha, whose career seems to be at a standstill at 38 Tests and 103 dismissals including 11 stumpings. "I feel for Saha. But, it is a competitive world. He has not done bat at all, though. He is the best wicketkeeper."
When you keep a gloveman of the calibre of Saha out of the Test 11, it also speaks about the strength of wicketkeepers in the country at the moment. More was pleased with the overall scenario of the wicketkeepers in the country.
He said: "It is very good. You have Ishan Kishan (included in the upcoming T20 series against England), Sanju Samson, KS Bharat (reserve wicketkeeper in Tests), Anuj Rawat of Delhi and Rajasthan Royals, Mumbai's Aditya Tare has always done well in domestic cricket. There are a couple of under-19 wicketkeepers too. The wicket-keepers strength is very good. They need to be nurtured very well."
The just-concluded Test series against England was reminiscent of the 1993 home series against the same opponents in which More kept to the spin trio of Anil Kumble, Venkatapathi Raju and Rajesh Chauhan.
He remembered that series fondly: "We did not lose any Test in that series. We won all the three Tests. The three young spinners Kumble, Raju and Chauhan did a lot of damage. There were pretty high scores in that series. India scored a lot of runs. The pitches were similar to what you expect in India – the ball was always turning on the third and fourth days. I remember we scored close to 600 (591) at the Wankhede Stadium in Mumbai with Vinod Kambli scoring a double century.
"In the current series, only the two major spinners in Ashwin and Axar Patel got wickets. Kuldeep Yadav and Washington Sundar also played a bit."
More felt that Sundar, who has already scored three fifties and taken six wickets in four Tests, "has been the find of the year in Test cricket".
He said: "Sundar can bowl and bat, be the back-up option for Ashwin. India can always go with two right-arm off-spinners including Sundar when the opposition has a lot of left-handers."
More played alongside some of the legends of world cricket including Sunil Gavaskar, who marked his 50th year since his Test debut on Saturday. More had fond memories of sharing the dressing room with Gavaskar and was the India wicketkeeper in the Little Master's final Test series in 1987 against Pakistan.
More fondly remembered his association with Gavaskar: "I saw one of the best innings in whatever cricket I have played with him. He scored a hundred in Guyana in 1983 after he was hit on his head by a Malcolm Marshall bouncer. He went on to score 147 not out. There was no restriction on bouncers. Also, I was witness to his masterful 96 in his final Test innings in Bengaluru. We played on a rank turner. It was a crazy pitch. He was hardly beaten in that innings. He was so constructive, his shot selection was unbelievable. You hardly get to see that sort of an innings.
"Gavaskar gave me the nickname Jockey in 1983 during the tour of the West Indies. I was weighing 48kgs in the West Indies and used to run in hop-stop fashion. I also shared a room with him in England in 1986. You get a wonderful experience playing with him," More said, in awe of the great opener of the 1970s and 1980s.
---
---